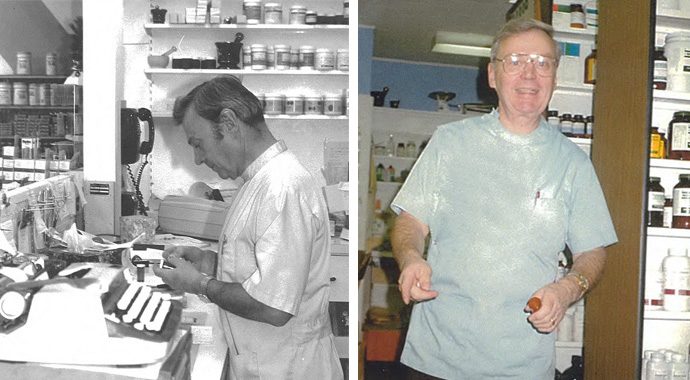 Rodolphe Struthers was born in Cornwall, Ontario on January 9, 1926. He was the sixth child of 10 children. In October 1944 he joined the Canadian Army and served in Canada, the United Kingdom and Continental Europe until September 1946.
After leaving the armed services, he returned to his former job as a delivery boy at Ruest Drug Store. He next took a clerks job at Tamblyn's Drug Store. In 1950, he married Rita Fortier, and with her encouragement he continued to work at Tamblyn's Drug Store while taking the necessary correspondence courses to enter the Faculty of Pharmacy at the University of Toronto. In 1954 he received his Bachelor of Pharmacy and promptly sent a telegram to his wife stating, "Rita stop working, I'm graduating!" By then they had two children and over the years three others followed.
After graduation, Rodolphe accepted a pharmacist position with McNabb's Drug store in Cornwall. Following Mr. McNabb's passing, his wife offered Rodolphe the business which he operated under his own name as "Struthers' Pharmacy". During these years, Rodolphe and Rita had a custom home built on Guy Street where they raised five children.
In the 1970's, Rodolphe accepted a partnership with Medical Arts Pharmacy, which at the time, operated four locations: the Pitt Street store, the Montreal Road store, the Maxville store as well as a clinic in Akwesasne. Sharing a business meant Rodolphe was now able to enjoy a little more time off for a good game of golf. Rodolphe's three daughters had student jobs at the stores along with lots of fond memories of the people they served and worked with. At 63, Rodolphe sold his share of the business and retired. He enjoyed being part of Medical Arts Pharmacy and the many people he encountered and worked with.
For many years following, Rodolphe continued to be an active member with his church and committees. Together, Rita and Rodolphe enjoyed golf, traveling and many special gatherings with family and friends. Rodolphe was happiest when he could get away to his workshop where his woodworking projects were built and later treasured by his children and grandchildren.
In his later years, Rodolphe was afflicted with dementia and Alzheimer's disease, and sadly in 2015, after 65 years of marriage with Rita, their home was sold and Rodolphe was admitted to the Pearly and Rideau Veterans' Health Care Centre in Ottawa. Rodolphe passed away at 90 years of age on June 30, 2016 surrounded by his family.
– Submitted by the Struthers family